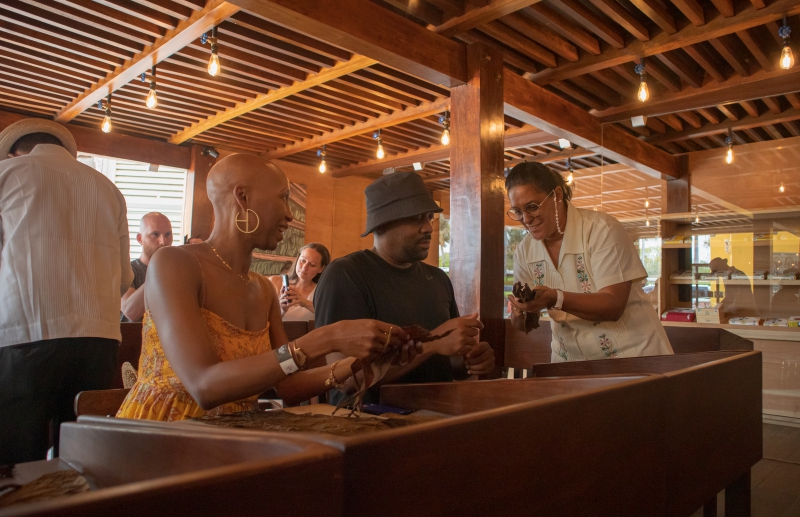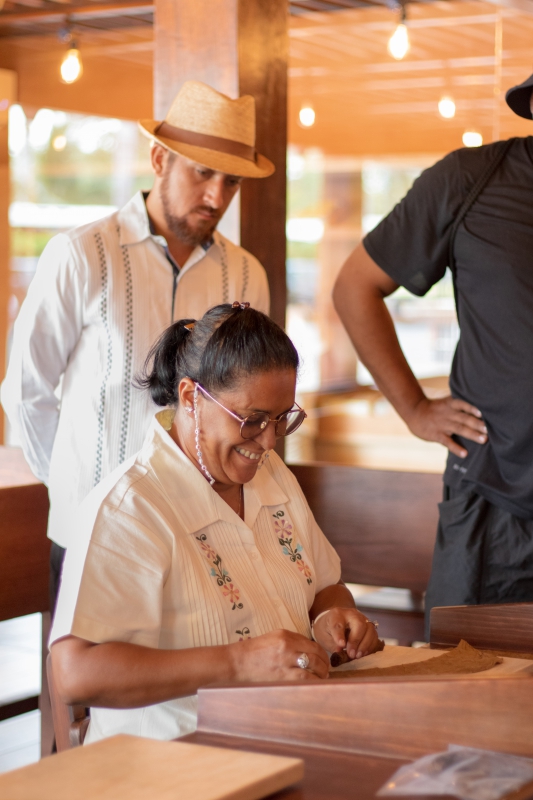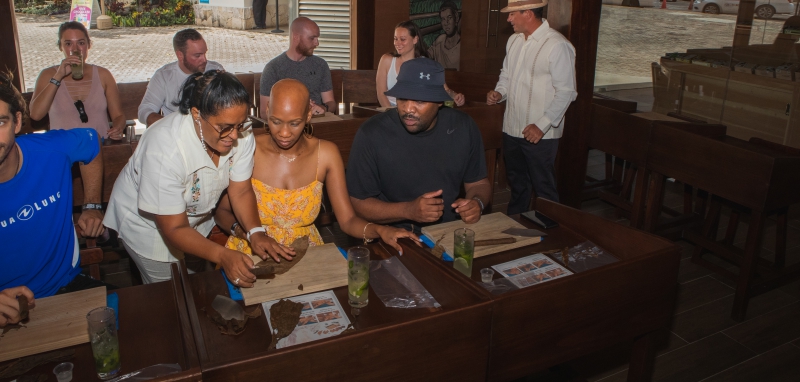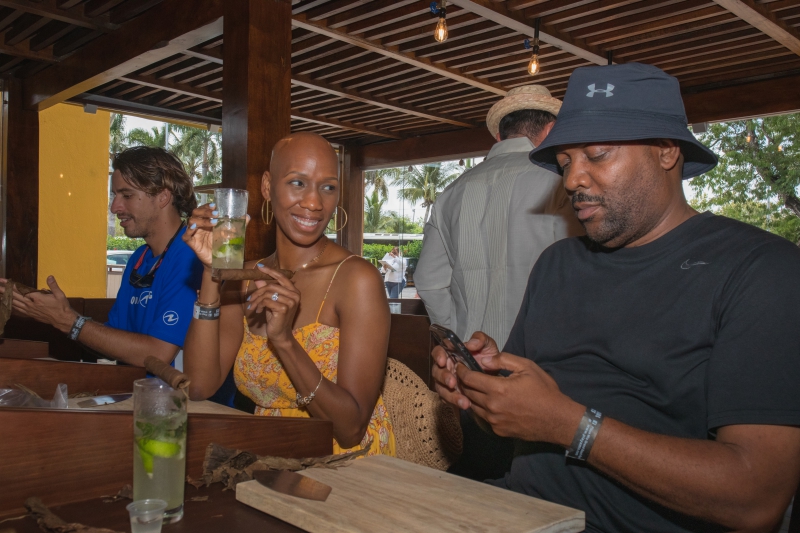 Cuban Cigar Master Class & Beach Break - Without transportation
Cozumel
Duration 5 h
Description of Cuban Cigar Master Class & Beach Break
A class full of atmosphere and a lot of knowledge. Learn the basic techniques that are implemented in the creation of a cigar.

The fun begins at the moment that our instructor, originally from Cuba, begins by presenting and explaining the different types of leaves that are used to make a cigar, where you will be able to understand how this interesting process is done.

Once you have distinguished and learned, it will be the moment where you will begin to make your own creation, you will know how to moisten the leaves, the cut that you must make, how to delicately select each one of them, once you have your leaves ready, the moment rolling them has arrived, get ready to follow the infallible rolling technique, which will be a fundamental piece for your cigar to have the most professional flavor and shape. Without a doubt, a master class to become an expert torcedor.

During the class you will have drinks at your disposal to cool off and relax in the process of creating your cigar, you will enjoy a totally warm atmosphere, full of knowledge and totally guaranteed fun, learning has never been so easy and entertaining.

Remember that you will have at your disposal a main food that you can choose between: chicken with mashed potatoes and salad, fish in coriander sauce and mashed potatoes or, a delicious hamburger. Water and soft drinks, and a national open bar will accompany your food so that you can enjoy it to the fullest.
A class full of atmosphere and a lot of knowledge. Learn the basic techniques that are implemented in the creation of a ...
General information of Cuban Cigar Master Class & Beach Break
Schedules
9:00 am. and 11:00 a.m.
Meeting point:
Main entrance of Playa Mia on Carr. Costera Sur Km. 15, 77600 San Miguel de Cozumel, Q.R.
**Registration at the meeting point 30 minutes before the start time of the excursion
**Any cost incurred to reach the meeting point must be covered by the client in full
What is Included Cuban Cigar Master Class & Beach Break
Choice of 1 dish: Classic hamburger with fries, Smoked chicken with mashed potatoes and coleslaw, or Smoked fish fillet with rice and vegetables. Vegetarian option is Portobello Burger
Mojitos during class and national open bar
Entrance to Playa Mia Grand Beach Park
Access to Playa Mia includes:
The ?Bahía Bucaneros? children's wading pool, which has a pirate ship, water cannons, animal-shaped slides and water jets.
The Oasis Island Pool and hot tub
Access to the Floating Park*
Access to the underwater Mayan city (Rental of snorkel equipment not included).
Shopping area with souvenirs, Mexican handicrafts and a photo shop.
Beach Loungers, Kayaks, Pedal Boats, Water Bikes, Ping-Pong Table
Volleyball and beach soccer court, Showers and changing rooms, Life jackets
Life guard
rescue unit
Paramedic and first aid on site permanently
Ambulance on site permanently
Establishment accessible to guests in wheelchairs. Does not apply to all park activities.
Wheelchair service for the beach as transportation within the part available at the request of the guests,

*Restrictions apply. All services are provided on a first-come, first-served basis.
What is Not Included Cuban Cigar Master Class & Beach Break
Transportation to the meeting point
A la carte menu at La Velaria restaurant as well as alcoholic beverages and soft drinks Bar -La Cantina
Jet skis, Parachute flight.
Snorkeling trips, Snorkeling equipment
Lockers, Umbrellas, Towels
Fish Spa (Ictotherapy), Caribbean braids, Balinese beds
Nail & Spa
Outdoor massages
Shopping area with souvenirs, crafts and a photo shop
Recommendations of Cuban Cigar Master Class & Beach Break
Bring comfortable clothing, swimsuit, long-sleeved shirt with UV filter, sandals, hat, cash or credit card (VISA, MasterCard or American Express) for purchases and tips.

IMPORTANT: Playa Mia is committed to protecting Cozumel's ocean environment and reefs; that is why the use of any type of sunscreen or sunscreen, which could eventually reach the ocean, is no longer allowed. All clients must take a shower BEFORE entering the sea or the pools of Playa Mia. We suggest the use of long-sleeved UV-filtering shirts, hats, caps, and sunglasses to protect against UV rays. Corals, minnows and all other sea creatures will appreciate your cooperation!
Regulations of Cuban Cigar Master Class & Beach Break
Guests must wear a face mask in common areas, when around other guests and when interacting with staff, in accordance with the security guidelines established by the local government.
The staff will provide each client with antibacterial gel (with 70% alcohol) upon arrival at the park.
The minimum legal drinking age in Mexico is 18 years. Minors will not be served alcohol, even with parental consent.
Playa Mia may require, at its discretion, a valid photo ID as proof of age for the consumption of alcoholic beverages.
Playa Mia reserves the right to deny alcohol service to minors and those who appear intoxicated or behave unacceptably at their discretion.
Participation in any and/or all services and attractions offered by the Tour Operator is entirely at the discretion, risk and responsibility of the guest.
Some of the services and/or attractions may be subject to age, weight or height restrictions
The use of all services and non-motorized water toys will be subject to the regulations imposed by the park and the competent authorities.
The use of the Twin Giant slides and the Floating Park is not allowed for people who cannot swim, acrophobic, alcoholic or under the influence of any narcotic substance, impeded by any medication or in medical conditions such as pregnancy, lactation, heart disease, muscular/joint back/neck injuries, recent surgeries, muscular/motor limitations or with different physical capacities and for people who suffer from panic or anxiety attacks.
Cancelation policies of Cuban Cigar Master Class & Beach Break
Full refund will apply in the following cases:


1. When the service is canceled by the supplier.


2. Due to illness, presenting a doctor's report.


3. The Cancellation or date change is made prior to 11:00 am the day before the service.





No refunds will apply:


1. If the client does not show on the date and time of service.
LOMAS TRAVEL
Without transportation