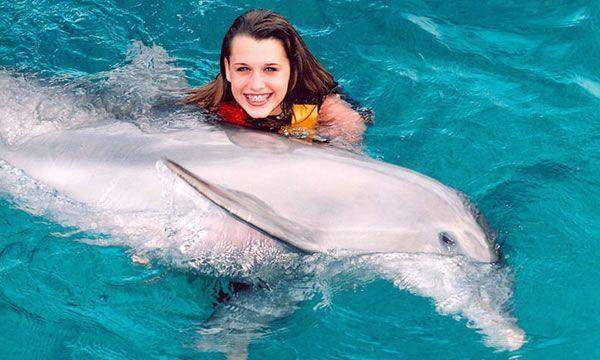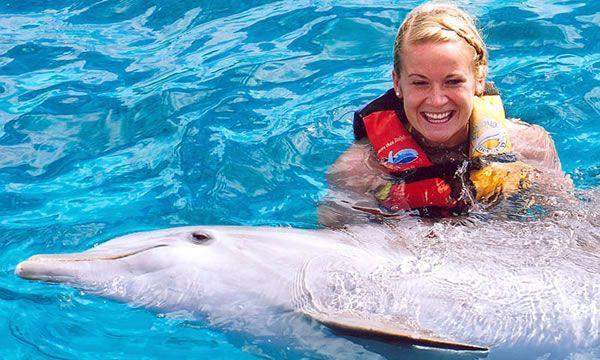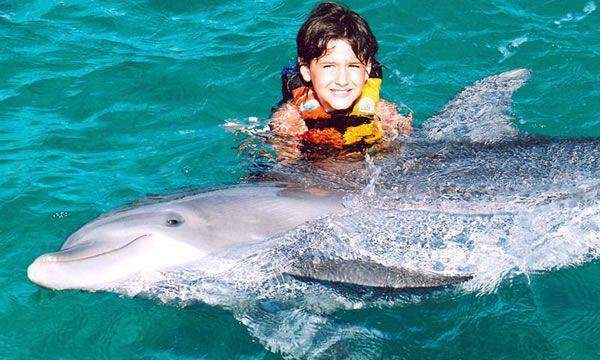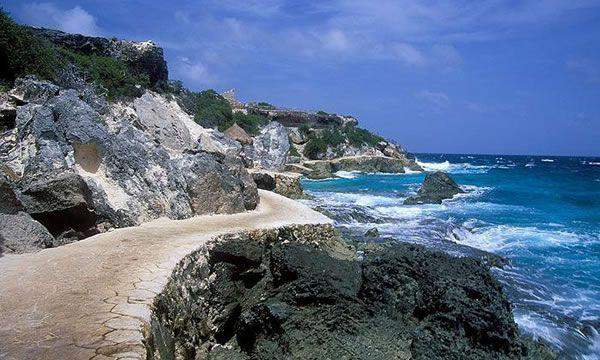 Royal Garrafon + Dolphin Encounter - Without transportation
Isla Mujeres
Duration 8 h
Description of Royal Garrafon + Dolphin Encounter
You will start with the Dolphin Encounter program, to interact with them from a platform where only half of your body is submerged, without having to swim. It is perfect for the whole family!

A dolphin will greet you and sing to you. You can pet it and even dance with it. After the 40-minute dolphin experience, you can kayak, ride a bicycle, snorkel, or just relax on the beach at Garrafon Park.

Note: From August 19, 2019 and until further notice, the appointment for excursions to Garraf贸n Park will be at the Langosta Beach pier.

A family-friendly tour that invites you to enjoy fun activities with a docile dolphin, and the Garrafon Park麓s faciliti...
General information of Royal Garrafon + Dolphin Encounter
-Tuesday to Sunday
-The ferry departs at 9:00 am (you must arrive 30 minutes earlier)

What is Included Royal Garrafon + Dolphin Encounter
-Lockers, snorkel equipment, life jackets, kayaks, hammocks, panoramic pool and showers
-Continental breakfast, snacks, buffet lunch and open bar at the Park
-Orientation
-Towel
-Bike tour

What is Not Included Royal Garrafon + Dolphin Encounter
-Additional food and beverages at Dolphin Discovery Isla Mujeres
-Photos and videos
-Pier tax (USD $10 p/p)
-Ground transportation for participants and companions (USD $15 p/p)
* This fee applies for hotels located within the Playa Mujeres and Riviera Maya area
Recommendations of Royal Garrafon + Dolphin Encounter
-Swimsuit
-Towel
-Change of clothes
-Biodegradable sunscreen
-Extra cash for tips (optional) and souvenirs

Regulations of Royal Garrafon + Dolphin Encounter
-Minimum age to participate: 1
-Child rate applies to minors with a height between 3 ft and 4 ft.
-Maximum group size: 15 participants.
-No refunds are made.
-Infants aged 0 to 5 pay no pier tax nor admission, but will participate in activities suitable for their height and weight.
-Children aged 6, and older, pay the transportation fee (children under the age of 6 pay no fee, but must travel on their parents麓 lap)
Cancelation policies of Royal Garrafon + Dolphin Encounter
Full refund will apply in the following cases:


1. When the service is canceled by the supplier.


2. Due to illness, presenting a doctor's report.


3. The Cancellation or date change is made prior to 11:00 am the day before the service.





No refunds will apply:


1. If the client does not show on the date and time of service.
LOMAS TRAVEL
Without transportation