Royal Garrafon VIP & Royal Swim
Isla Mujeres
Duration 8 h approx.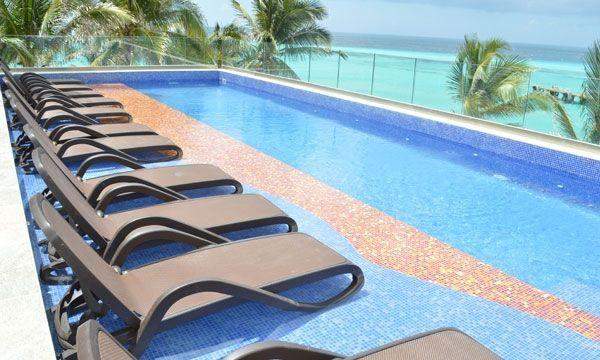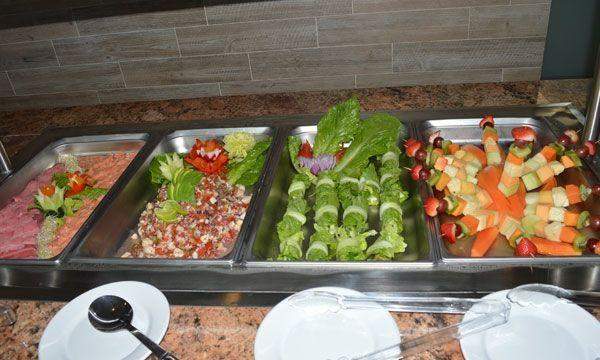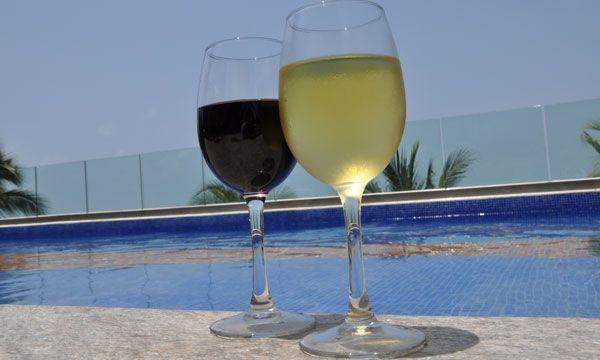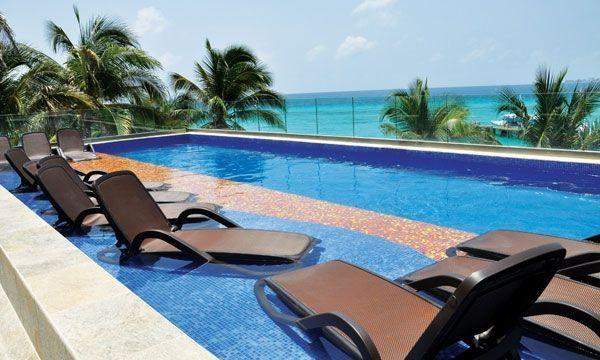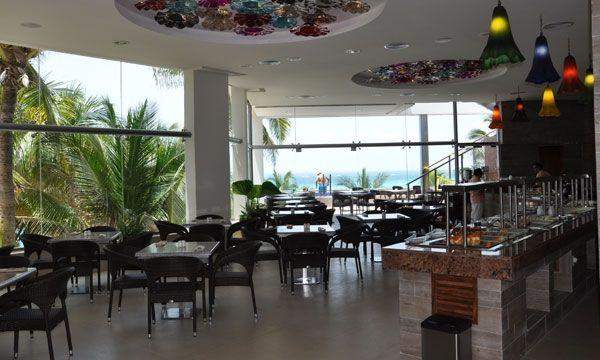 Description of Royal Garrafon VIP & Royal Swim
Get on a ferry from Cancun to Isla Mujeres and enjoy spectacular ocean views while savoring a delicious continental breakfast. Upon arrival on Isla Mujeres, get ready for the thrilling Dolphin Royal Swim program, which includes kiss, handshake, hug, hand target, as well as the exciting foot push and dorsal ride.

After this, you will be pampered with the luxury services offered at the Parque Garrafon ┬┤s VIP area, such as premium buffet, international open bar, showers, lockers, panoramic pool, and towel rental. In addition to that, you may enjoy the following incredible activities: snorkeling, kayak, zip-line, bike riding, or just relaxing on this tropical paradise.

Note: From August 19, 2019, and until further notice, the appointment for excursions to Garraf├│n Park will be at the Langosta Beach pier.
Live an unforgettable experience swimming with dolphins in colorful Isla Mujeres. Have fun and enjoy VIP access to Garra...
General information of Royal Garrafon VIP & Royal Swim
-Monday to Sunday from Cancun
-Meeting point Playa Langosta - 08:30 10:30
-The ferry departs at 9:00 am (you must arrive 30 minutes in advance)

What is Included Royal Garrafon VIP & Royal Swim
-Activities with dolphins
-Admission to the Park's VIP area (premium buffet, international open bar, panoramic swimming pool, showers, restrooms, and lockers)
-Snorkelling gear, lifejackets, kayaks bicycles, zip lines, hammocks, swimming pool and towels.
-Continental breakfast on the ferry
-Snacks
What is Not Included Royal Garrafon VIP & Royal Swim
-Photographs of the swimming with dolphins experience and souvenirs
-Pier tax (USD $10 per person)
-Ground transportation from Cancun and Riviera Maya (USD $15)
-Admission for infants aged 1 to 5 (USD $39)
Recommendations of Royal Garrafon VIP & Royal Swim
-Biodegradable sunscreen
-Extra cash for tips (optional), photographs, and souvenirs
-Swimsuit
-Towel
-Change of clothes
-Comfortable shoes

Regulations of Royal Garrafon VIP & Royal Swim
-This tour is not suitable for pregnant women
-Minimum age to participate: 1
-Minors aged 6 to 12 pay the child rate
-Maximum number of people per tour: 10
-Children aged 1 to 7, a/o with a 4 ft. height or below may participate in these activities only accompanied by two paying adults; children aged 8 and older, a/o taller than 4.5 ft. may participate in the activities accompanied by one adult.
-Minors aged 1 to 7 may participate in the Dolphin Encounter and Royal Swim Program.
-Maximum number of people per tour: 10
-Infants aged 0 to 5 pay no pier tax
-Children aged 6, and older, pay the transportation fee (children under the age of 6 pay no fee, but must travel on their parents┬┤ lap)
Cancelation policies of Royal Garrafon VIP & Royal Swim
Full refund will apply in the following cases:


1. When the service is canceled by the supplier.


2. Due to illness, presenting a doctor's report.


3. The Cancellation or date change is made prior to 11:00 am the day before the service.





No refunds will apply:


1. If the client does not show on the date and time of service.
Not Available, please contact your Lomas executive for more information.
X