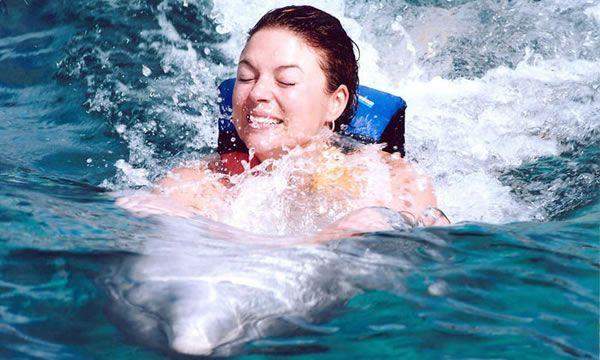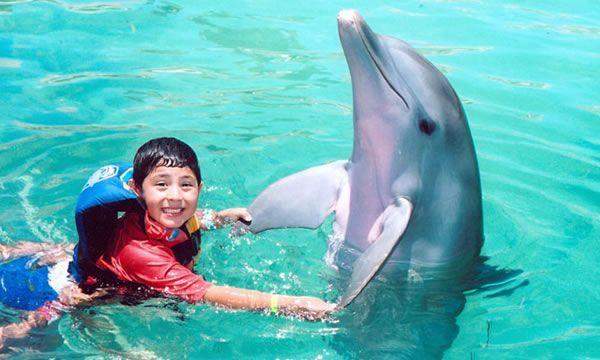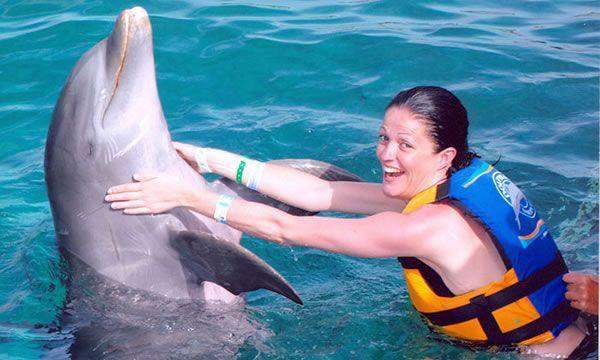 Royal Garrafon + Dolphin Swim Adventure - Without transportation
Isla Mujeres
Duration 8 h
Description of Royal Garrafon + Dolphin Swim Adventure
A one-of-a-kind tour on Isla Mujeres that invites you swim alongside tender dolphins in a natural setting, take part in thrilling speed activities with these intelligent animals, enjoy unlimited domestic beverages on the beach, explore the world beneath the waves, and much more.

Note: From August 19, 2019, and until further notice, the appointment for excursions to Garraf贸n Park will be at the Langosta Beach pier.

After a 15-minute informative briefing, you will be ready for your dolphin experience, which includes kiss, hug, handshake, hand target, as well as the exciting belly ride and boogie push.

In addition to this, you will be taken to Parque Garrafon, a tropical paradise where to enjoy domestic open bar, continental breakfast, buffet meal, snacks, and activities like snorkeling in a captivating coral reef, kayak, bike riding, among other incredible activities. All of this surrounded by magnificent natural landscapes.
Exciting activities with dolphins, domestic open bar on the beach, fun water activities, and much more. ...
General information of Royal Garrafon + Dolphin Swim Adventure
-Tuesday to Sunday
-The ferry departs at 9:00 am (you must arrive 30 minutes earlier)

What is Included Royal Garrafon + Dolphin Swim Adventure
-Lockers, snorkel equipment, life jackets, kayaks, hammocks, panoramic pool, and showers
-Snorkeling at Garrafon Park
-Continental breakfast, snacks, buffet lunch and open bar at the Park

What is Not Included Royal Garrafon + Dolphin Swim Adventure
-Food and beverages at Dolphin Discovery Isla Mujeres
-Photos and videos
-Pier tax (USD $10 p/p)
-Ground transportation for participants and companions (USD $15 p/p)
* This fee applies for hotels located within the Playa Mujeres and Riviera Maya area
Recommendations of Royal Garrafon + Dolphin Swim Adventure
-Biodegradable sunscreen
-Cash (for taxis, shopping and extra charges)
-Towel
-Change of clothes
-Swimming suit

Regulations of Royal Garrafon + Dolphin Swim Adventure
-The use of lifejacket is mandatory in all water programs at Dolphin Discovery
-Child rate applies to minors with a height between 4 ft and 4 ft. 6 in.
-Children smaller than 4 ft. 6 in. or younger than 12 years must swim accompanied by a paying adult
-Water activities are not suitable for pregnant women
-Maximum number of people per group: 12
-Infants aged 0 to 5 pay no pier tax nor admission, but will participate in activities suitable for their height and weight.
-Children aged 6, and older, pay the transportation fee (children under the age of 6 pay no fee, but must travel on their parents麓 lap)
Cancelation policies of Royal Garrafon + Dolphin Swim Adventure
Full refund will apply in the following cases:


1. When the service is canceled by the supplier.


2. Due to illness, presenting a doctor's report.


3. The Cancellation or date change is made prior to 11:00 am the day before the service.





No refunds will apply:


1. If the client does not show on the date and time of service.
LOMAS TRAVEL
Without transportation