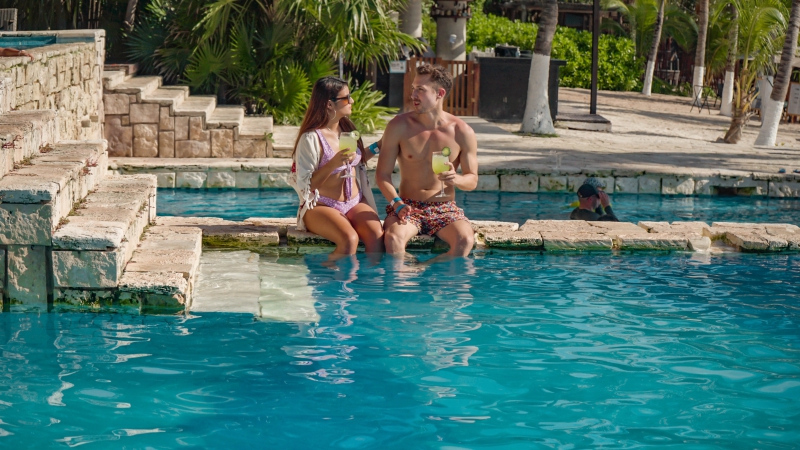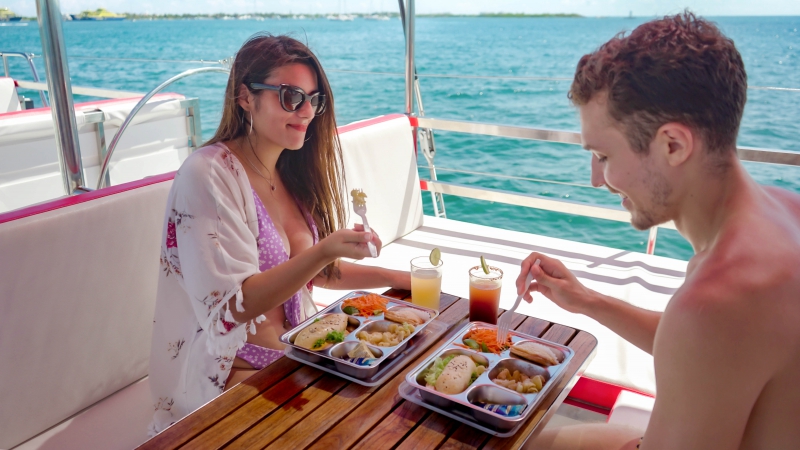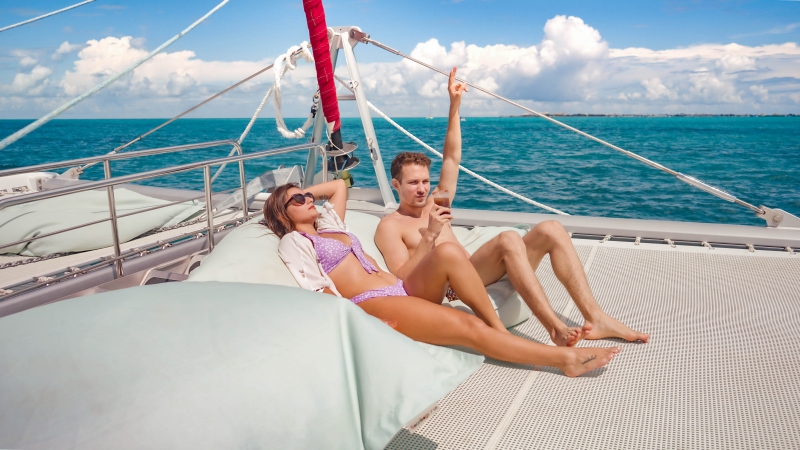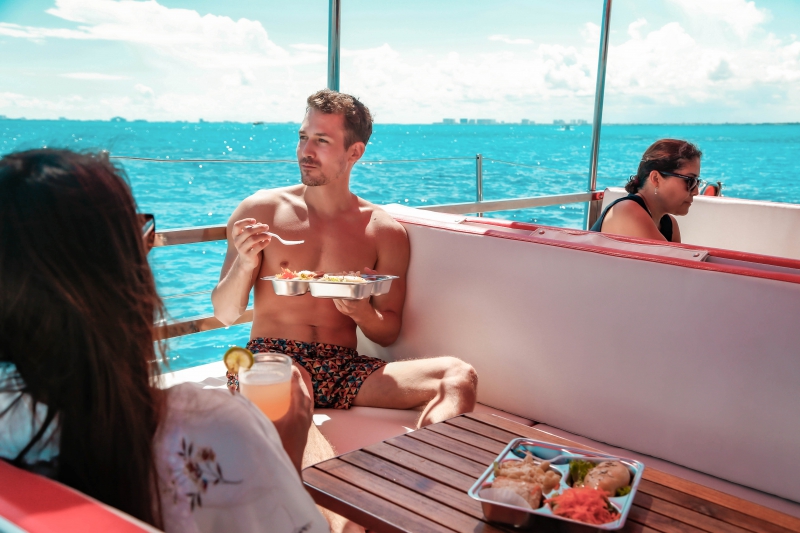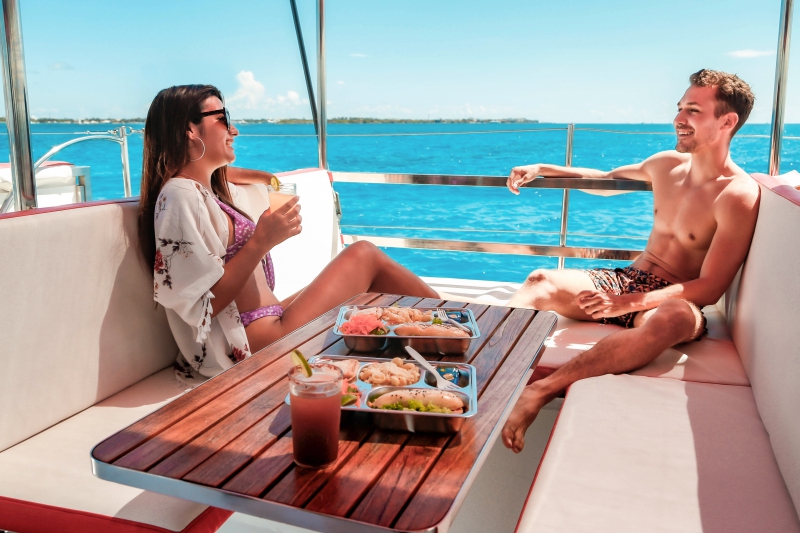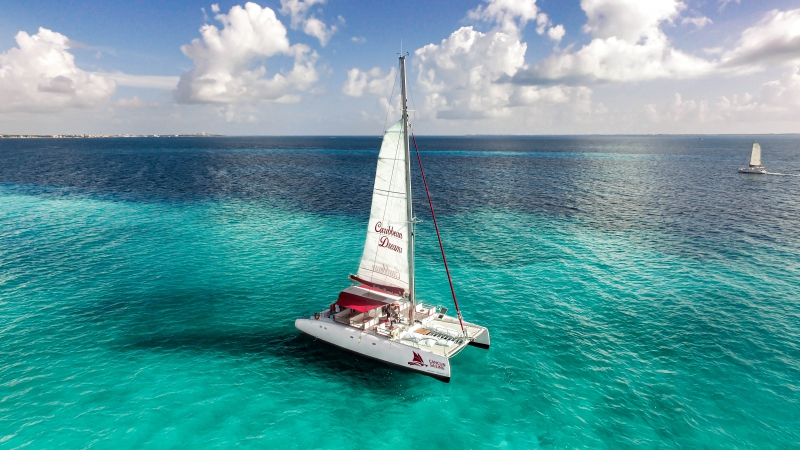 Sail to Isla Mujeres - Without transportation
Isla Mujeres
Duration
Description of Sail to Isla Mujeres
Once on the catamaran, during the trip, you will enjoy a good atmosphere, the warmth of our crew, and the national open bar with drinks such as purified water, soft drinks, beer, rum, tequila, vodka, and whiskey. Reef snorkeling Beach club and buffet Free time Spinnaker
Once on the catamaran, during the trip you will enjoy a good atmosphere, the warmth of our crew and the national open ba...
General information of Sail to Isla Mujeres
PLAYA DEL CARMEN

8:00
Wyndham Garden
Plaza Antigua
Playacar Palace

8:10
Av. 10 con Calle Juarez, 2, 4, 6, 8, 10, 12
Coco Bongo

8:15
Condotel El Tukán
Av. 10 con 14 BIS
Porto Real
Panama Jack
Hilton
The Royal Playa Del Carmen

8:20
Scotiabank
HM
HOLIDAY INN
Av. 10 con Calle 20, 22, 24, 26, 28, 30, 32
Hyatt Playa Del Carmen
Fiesta Inn PDC
Reef 28
Aldea Thai

8:25
5ta con 34 Bodeguita del Medio
Mahekal
AV. 10 con Calle 34, 38, 40, 42, 44

8:30
Av. 10 con Calle 50 ? 74, CTM
Reef Coco Beach
The Gran Coco Bay

CANCÚN

9:30
Marina Chac Chi Km 3.2
Playa las Perlas Km 2.3

What is Included Sail to Isla Mujeres
National open bar Bacardi Blanco, Tequila, Smirnoff, Sol or Superior beer, Whiskey, soft drinks, and drinking water.
Reef snorkeling You will enjoy approximately 45 minutes of snorkeling in one of the most wonderful reefs of Isla Mujeres Buffet You will find a varied menu with options such as chicken, beef, pasta, salad, and vegetables
Free time You will have approximately 2 hours of free time to explore the island, shop or visit Playa Norte Beach club You will visit some of the beach clubs we have, you can relax while enjoying the food
Spinnaker In the spinnaker you can fly more than 5 meters high. The activity is subject to weather conditions.
What is Not Included Sail to Isla Mujeres
Photo service.
Round trip transportation service with a cost per person of $ 12 USD for Cancun or $ 18 USD for Riviera Maya.
Dock Tax Federal tax along with reef tax, $ 13 USD per person, and children under 5 years old do not pay.
Reef tax Federal tax along with dock tax, $ 13 USD per person, and children under 5 years old do not pay.
Recommendations of Sail to Isla Mujeres
Regulations of Sail to Isla Mujeres
Cancelation policies of Sail to Isla Mujeres
Full refund will apply in the following cases:


1. When the service is canceled by the supplier.


2. Due to illness, presenting a doctor's report.


3. The Cancellation or date change is made prior to 11:00 am the day before the service.





No refunds will apply:


1. If the client does not show on the date and time of service.
Not Available, please contact your Lomas executive for more information.