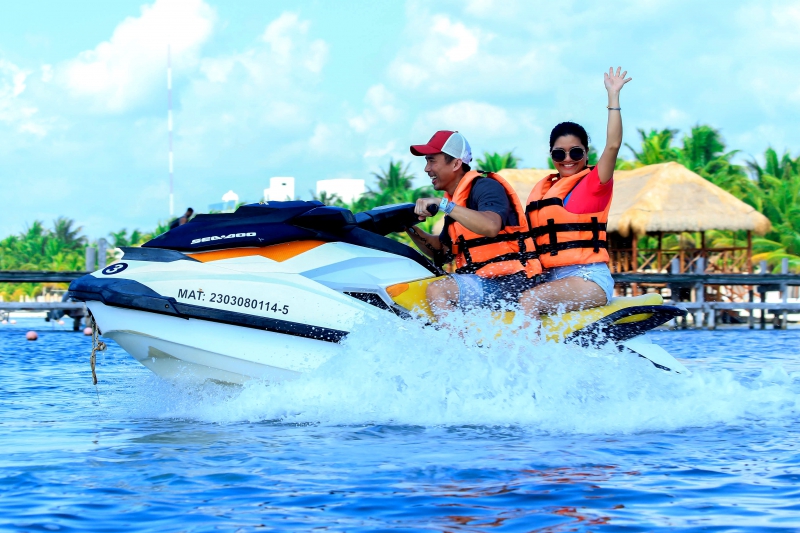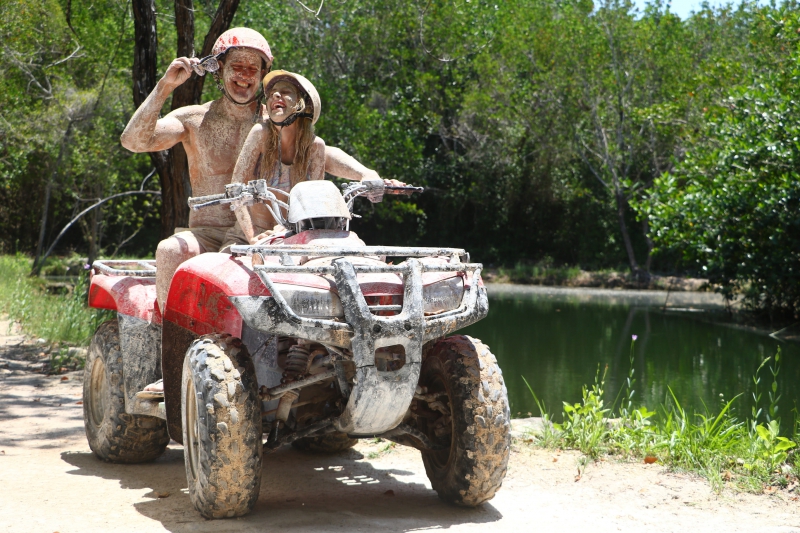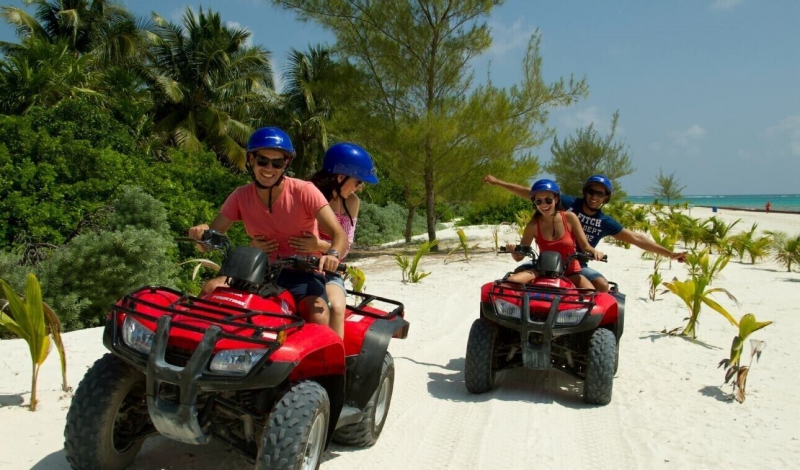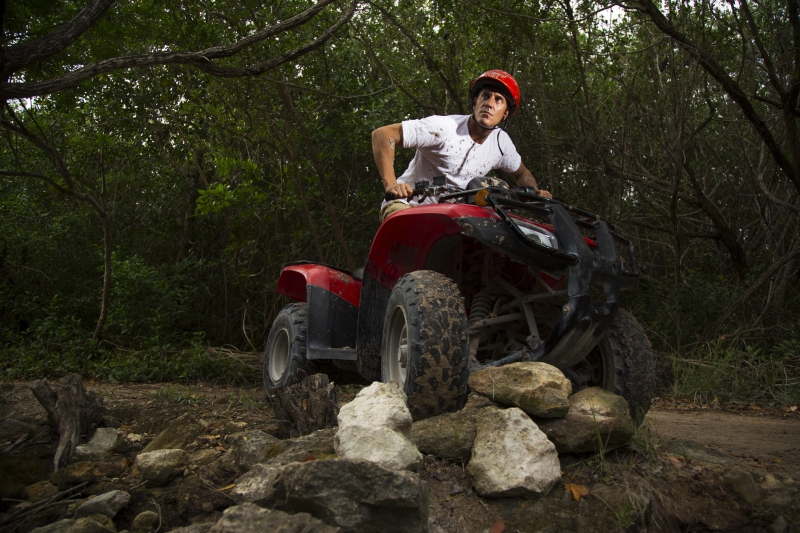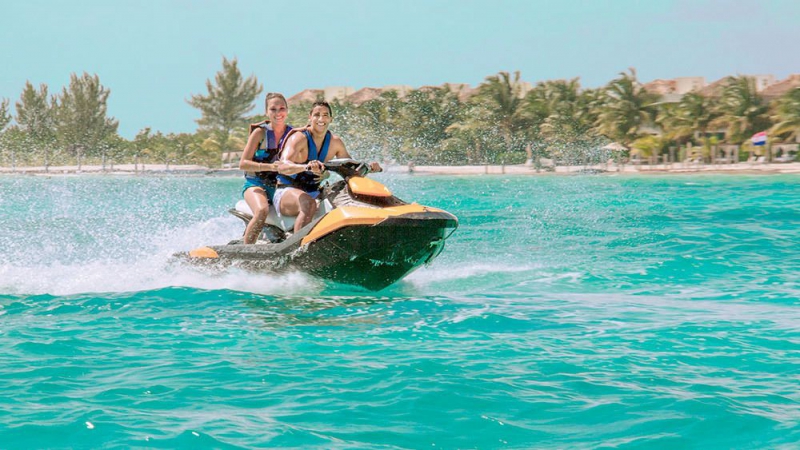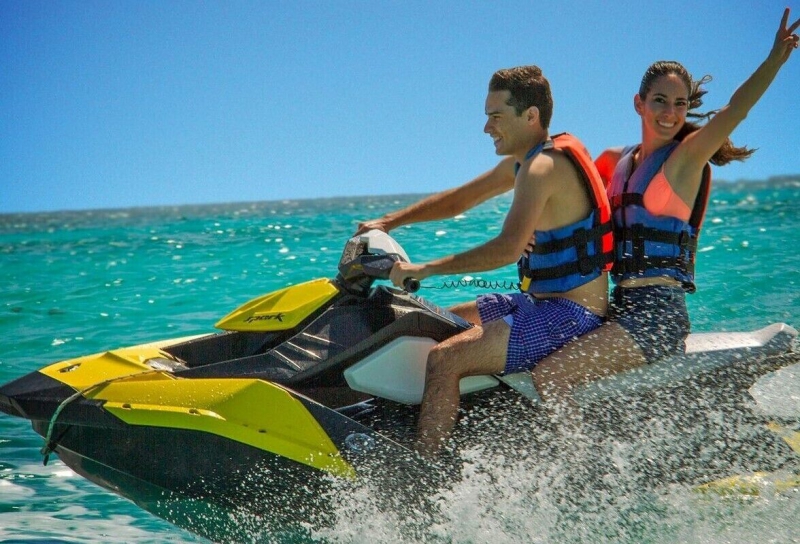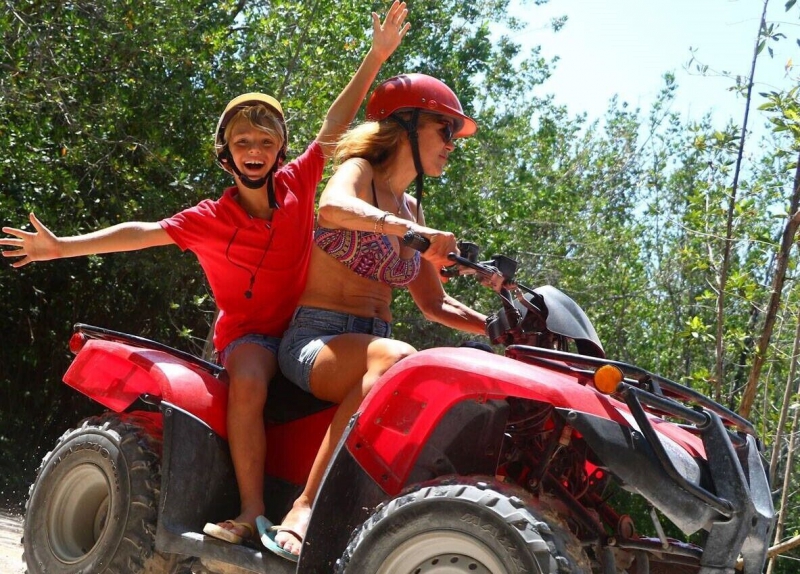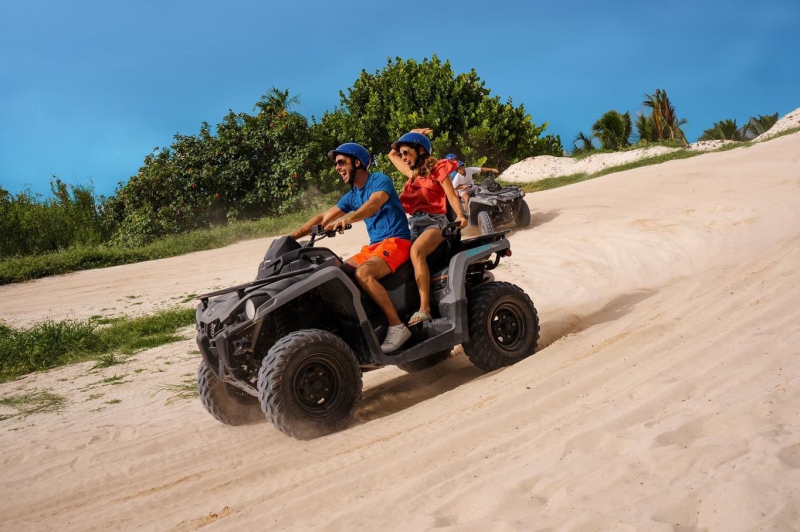 ATV Jungle Trail & Wave Runner
Playa del Carmen
Duration 2 Hours
Description of ATV Jungle Trail & Wave Runner
Combine the incredible joy of driving an ATV through the jungle with the thrill of riding a WaveRunner over the waters of the Caribbean Sea. Contemplate the incredible views and enjoy the spectacular natural scenery during your adventure.
You will be picked up at your hotel and your excursion will begin with an exciting ATV ride through the jungle of the Riviera Maya. Keep an eye out for wildlife and admire the diversity of tropical plants as you traverse the landscape.
Then, hop aboard a WaveRunner to quench your thirst for speed in saltwater, riding through the turquoise surf and playing in the waves off Maroma Beach. Relax with a selection of food and non-alcoholic beverages and enjoy some free time at the Maroma Beach Club.
Combine the incredible joy of driving an ATV through the jungle with the thrill of riding a WaveRunner over the waters o...
General information of ATV Jungle Trail & Wave Runner
Days of Operation: Monday to Sunday
Schedules: 9:30 a.m., 12:00 p.m. and 3:00 p.m.
Hotels in Cancun, Playa del Carmen and Riviera Maya
Departing point for those coming from Cozumel: Playa del Carmen

What is Included ATV Jungle Trail & Wave Runner
Shared transportation service Hotel-Marina-Hotel on specific schedules.
45 minutes ATV guided tour on established trails + 15 minutes of instruction.
45 minutes Wave Runner guided tour along the coast of Maroma Beach + 15 minutes of instruction.
One or two passengers per vehicle/boat according to the rate paid.
Admission to Maroma Beach and use of facilities.
Bilingual guide (English-Spanish)
AP and RC insurance

Menú Included in Combo:
Entry: (Caesar Salad)
Main Courses: Fish Ceviche or Beef Hamburger or Hot Dog.
Dessert: Vanilla or Chocolate Ice Cream
Two Non-alcoholic selected drinks per person.

Benefits:
Access included to the longest and most beautiful beach in the Mexican Caribbean.
Possibility of extending your stay at Maroma Beach at no extra cost.
Lounge chairs and tables on the beach.
Attention of our staff is totally personalized.
What is Not Included ATV Jungle Trail & Wave Runner
Private transportation
Souvenirs and photos
Lockers available (USD$10 Deposit at check-in. If payment is in cash, it is refundable until 5 p.m.).
Consumption of food and beverages additional to those included in this tour.
Tips (Optional)
Dock Use Tax $15 USD per person, payable upon check-in at the Marina.
Recommendations of ATV Jungle Trail & Wave Runner
Bring:
Swimsuit, towel, change of clothes, closed shoes, biodegradable sunscreen and insect repellent, cap, sunglasses, flip flops, light clothing to protect you from the sun and extra money to buy photos, souvenirs, additional drinks and to taste the delights of our Cocotales restaurant.

Pick-up varies depending on the location of the hotel, we suggest you contact us 24 hours before your tour, to reconfirm your schedule.
Regulations of ATV Jungle Trail & Wave Runner
Activities with limited spaces, we recommend booking in advance.
Minimum age to drive 16 years and to participate accompanied by an adult 6 years.
Available capacity: one or two people per ATV and/or Wave Runner.
Maximum weight: Single Basis: 130 kg / 286 lbs / Double Basis: 100 kg/ 220 lbs per person.
Automatic vehicles, requires skill to drive. Basic driving skills are required to participate.
The machines are customer's responsibility, all damages caused, customer must cover the repair costs.

For your safety, if your mobility is limited, you have back problems, a recent surgery or you are pregnant, we recommend that you consider some other less impactful activity and/or we may reserve the right to refuse service.
Being under the influence of alcoholic beverages or drugs is an impediment to your participation.
We reserve the right to organize the order of activities, for logistics, comfort and security of the clients.
If the client suffers from a physical illness or a special need, you can contact us to find out if you are able to take the regular tour or if a special tour is required.
In case of incomplete activity for personal reasons, the charge is maintained at 100% with no-refund.
Cancelation policies of ATV Jungle Trail & Wave Runner
Full refund will apply in the following cases:

1. When the service is canceled by the supplier.

2. Due to illness, presenting a doctor's report.

3. The Cancellation or date change is made prior to 11:00 am the day before the service.



No refunds will apply:
1. If the client does not show on the date and time of service.
LOMAS TRAVEL
Single ATV Jungle Trail & Double Wave Runner
LOMAS TRAVEL
SIngle ATV Jungle Trail & Single Wave Runner
LOMAS TRAVEL
Double ATV Jungle Trail & Double Wave Runner
LOMAS TRAVEL
Double ATV Jungle Trail & Single Wave Runner