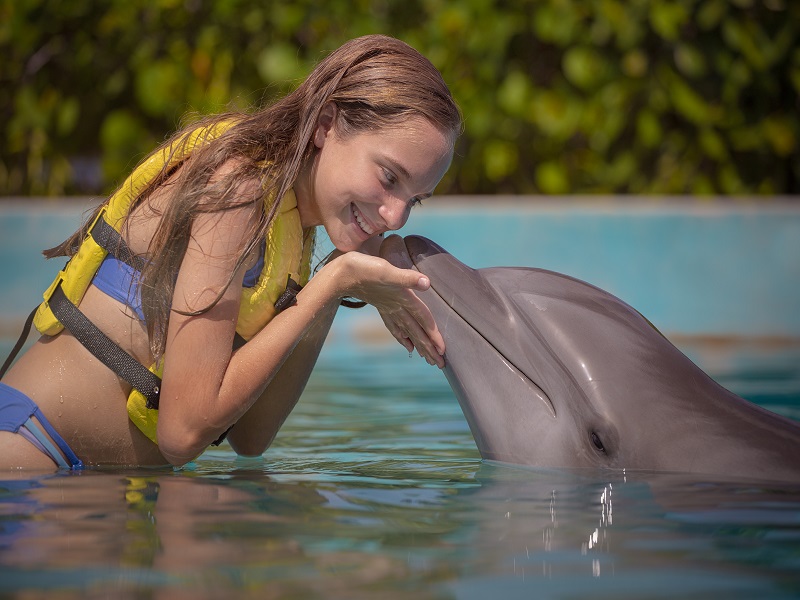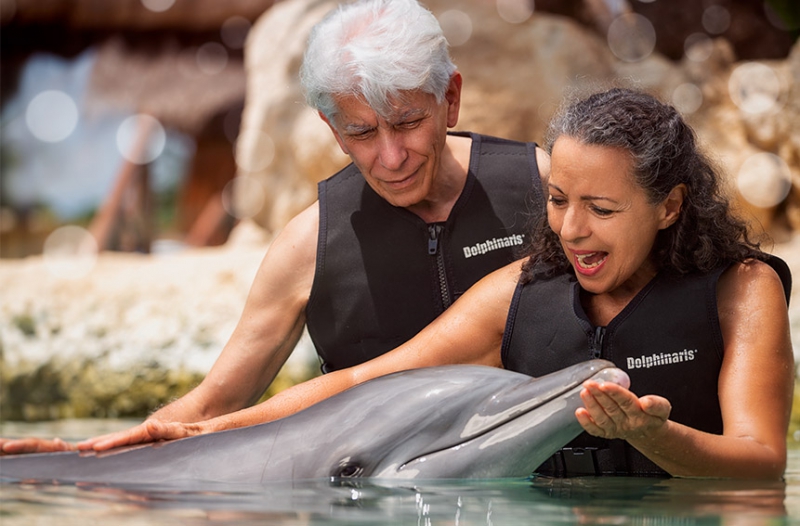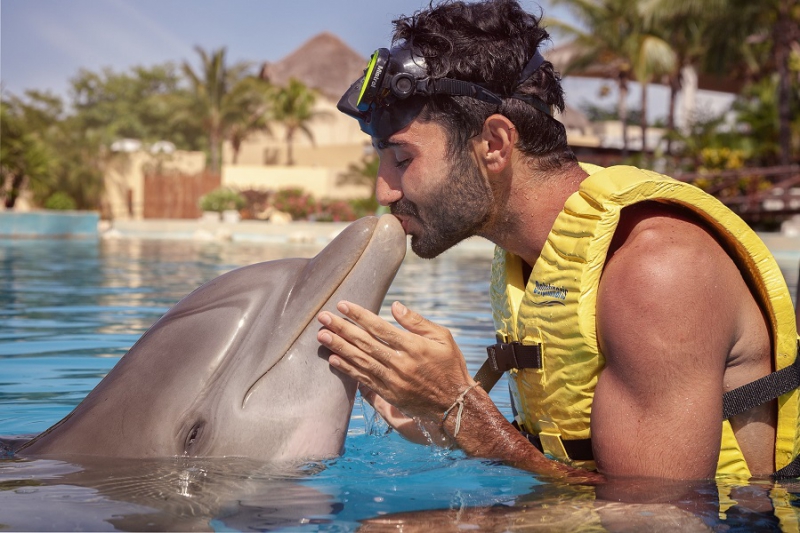 Friendly Encounter - Without transportation
Riviera Maya
Duration 60 Minutes (40 Minutes in the Water)
Description of Friendly Encounter
An experience everyone will treasure. Designed especially for guests who feel more at ease in shallower waters, the Dolphin Friendly Encounter gives you the chance to interact and communicate one-on-one with a dolphin during a calming yet unforgettable experience. No matter what your age or comfort level, you'll form a close and important bond with the dolphin and become inspired to fight for ocean conservation during this awe-inspiring encounter.

Only at Dolphinaris Cancun, we grant free access to Wet'n Wild pools, slides, food and drinks, water, juices, soft drinks (Applies from Friday to Sunday)
Only clients staying at Barcelo can use the facilities of this dolphinarium.
An experience everyone will treasure. Designed especially for guests who feel more at ease in shallower waters, the Dolp...
General information of Friendly Encounter
Dolphinaris Cancun: 10:00/12:40/15:00
Dolphinaris Barcelo: 11:00/13:30
What is Included Friendly Encounter
-Introduction to Dolphin Behaviors & Physiology.
-Fin Shake.
-Hug.
-Interaction.
What is Not Included Friendly Encounter
Roundtrip Transportation
Recommendations of Friendly Encounter
-Swimsuit
-Towel
-Change of clothes
-Extra cash for tips (optional), photos, and souvenirs
Dolphins are extremely delicate animals, so we ask you not to use sunscreen.
To carry out the program, clients are required to use only swimsuits that do NOT have metal or any other material and/or accessories that could harm animals.
For the safety of the dolphins, we request the removal of jewelry and other objects that may become detached and fall into the water.
Regulations of Friendly Encounter
-Swimming skills are required to participate in this activity
-This activity is not allowed for pregnant women, or people with heart or back problems
-Clients under the influence of alcohol or drugs cannot enter the water.
-Two dolphins per group
-Minimum height required: 1.22 m. Children with a smaller stature must be accompanied by an adult with a paid ticket and will not be able to participate in the Foot Push activities or the Dorsal Ride
-The use of swimsuits with any metal piece or accessory that could harm the dolphins is prohibited
-For safety reasons for the participants and the dolphins, it is not allowed to enter the pools: video cameras, cell phones, jewelry, reading glasses or sunglasses, caps or hats.
-To maintain optimal conditions in the pools, the use of sunscreen or suntan lotion is not allowed.
-The use of a life jacket is mandatory during activities in the water.
-Only one companion per person is allowed (as an observer)
-Minimum age to participate: 3 years
-In case of booking transportation, you must make the reservation at least 24 hours in advance
Cancelation policies of Friendly Encounter
Full refund will apply in the following cases:

1. When the service is canceled by the supplier.

2. Due to illness, presenting a doctor's report.

3. The Cancellation or date change is made prior to 11:00 am the day before the service.



No refunds will apply:
1. If the client does not show on the date and time of service.
LOMAS TRAVEL
Dolphinaris Cancun
LOMAS TRAVEL
Dolphinaris Tulum
LOMAS TRAVEL
Dolphinaris Riviera Maya
LOMAS TRAVEL
Dolphinaris Cancun Promo Jump - Upgrade to Ocean Secrets/ Promo Jump
LOMAS TRAVEL
Dolphinaris Tulum Promo Jump - Upgrade to Ocean Secrets/ Promo Jump
LOMAS TRAVEL
Dolphinaris Riviera Maya Promo Jump - Upgrade to Ocean Secrets/ Promo Jump
Minimum capacity: 3 People
LOMAS TRAVEL
Dolphinaris Tulum Promo Weekend - Promo Weekend/ Valid only saturday and sunday
LOMAS TRAVEL
Dolphinaris Riviera Maya Promo Weekend - Promo Weekend/ Valid only saturday and sunday
LOMAS TRAVEL
Couple Promo in Tulum o Riviera Maya - Promo Pareja Encuentro